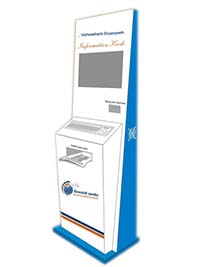 Vishwashanti Dnyanpeeth
This kiosk Organize everything starting from the admission of the student to the passing out with various report generation.
It includes report cards, attendance and discipline as well as many other specialized capabilities, including parental access to real time student grades on kiosk.
This means that not only administrators but also parents, teachers, and Students have access to real-time data.
Kiosk allows parents to know how their student is doing on continual basis by using this system.
Purpose behind is:
Easy supervision of an institution
Managing every department of school
Smoothness in organizing various aspects with its user friendly approach
Customized Specification:
Display: 18.5" LCD with Touch screen
CPU: Dual core, HDD: 250,RAM: 2 GB
RFID card reader,
RFID Cards with 4 color printing
A4 Laser Printer
Metallic keyboard with trackball
Kiosk cabinet : Leo kiosk cabinet
4 Point Spike Protector, Amplified Speaker set,
Cooling fans,
Door locks,
Duel color in Powder quoting ,
Customer Logo,
Internal wiring
Provision to put CPU ,
Cabinet made in 1.6mm CRCA metal.
Software:
Student management
Library Management
Employee Management
Financial Accounts Management
Hostel Management
RFID/Fingerprint based Attendance system
integration for students /employee.
Kiosk interface Module.
Web based Application Interface for parents.
Time Table Generation Module Alert services.